The  Log of the Cutty Sark examines the career of one of the greatest sailing ships to ever ply the water. Written by Basil Lubbock, this book takes a blow by blow account of the ship's construction, service, near wrecks, and ultimate fate. We follow her progress from the shipyards of Scotland, to the tea trade in China, along the Roaring Forties, filled with wool from Australia, and hundreds of points  in between.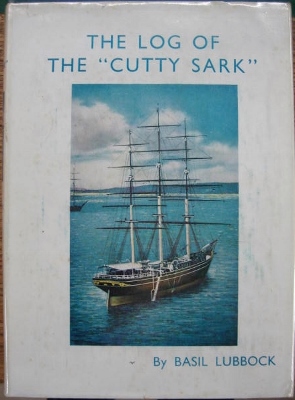 "So far as available printed records go to show, at the time she was built there was no ocean going vessel afloat, steam or sail, either in the Mercantile or Naval services, which could keep abreast of her in a good, strong, steady breeze of wind."

–John Rennie, the designer of the Cutty Sark's sail plan (p. 15)
This book is perfect for the well-informed sailing enthusiast. It was not written for the uninitiated or the casual observer. Lubbock stuffs each chapter full of sailing jargon and references to times and places that can quickly confuse readers who are unfamiliar with the nuances of sail plans, ship layouts, and the geographical peculiarities that speckle the route from London to Foochow or Sydney. Tackle this book if you love the subject, you want to learn, or you have access to a thick nautical dictionary.
Throughout Log of the Cutty Sark it's clear that the book was written by someone who clearly cares a great deal for this vessel and its place in history.
"In m y China Clippers I ended up with a lament over the lack of sentiment showed by the Britisher where his ships are concerned. In the light of such happenings as the buying of the Cutty Sark, the preservation and restorations of the Victory and the growing interest displayed in old models and shipping prints, I am glad be able to retract that lament and to rejoice in the knowledge that the British Empire is interested in its ships which, besides being an ever present necessity to its existence, were undoubtedly the prime cause of its being.  –Log of the Cutty Sark (p. 307)
Lubbock goes to great lengths to establish a record based in excerpts from captains logs, personal interviews, and correspondence that places the Cutty Sark as the paragon of all commercial sailing vessels.  Yet, at the same time, he seems to take care that his statistics are accurate, at least so far as the secondary corroborating material he had available to him at the time would allow him to be.
Interestingly, while Lubbock follows Cutty Sark's general chronology pretty faithfully, he still manages to find time to get distracted by tangents. A ship moored next to the clipper is often described in great detail, as is its life history and ultimate demise. Lubbock then scampers back to the topic at hand until he is dragged off again by another fit of gossiping regarding various ships officers and crew of this or the other boat.
When he is not playing the story-teller, he lets the narrative run full speed ahead into dizzying charts, coordinates, and tonnage levels, as well as how well Cutty Sark ran compared to her sister ships and competitors along the same route. This doubtless took a great deal of work, culling through mountains of ship logs and newspaper clippings from the era. For someone without specific interest in those dates and times, however, they can come across as daunting and skim-worthy.
One of the things Lubbock does best is painting the personalities of Cutty Sark's captains and stewards. He analyzes the men based on reports from the crews that served under them, and personal interviews. Lubbock critiques these men's sailing strategies and lambasts them for poor leadership when he feels they deserve it. Often, in Lubbock's view they deserve chastisement for sailing too conservatively and not allowing Cutty Sark to run as fast and as far as she might have when unfettered by their caution. In other places Lubbock gives credit where he believes it is due, commending men for valor, bravery, and above all excellent seamanship.
Lubbock gives Captain Woodget particularly high marks. And for myself, I found him to be a fascinating individual. A curious man who taught himself photography and to ride a bicycle on the deck of the Cutty Sark, as well as keeping a pair of collies on the ship with him, and taking the unusual step of taking the helm when the ship was in a storm or under particular stress. A man who was both lighthearted, and respected, an excellent seaman, and a compassionate individual.
Willis was so confident indeed in Woodget's ability that he took the captain down to the East India Dock where the Cutty Sark was loading for Sydney, and pointing out the clipper with outstretched arm, said simply: "Captain Woodget, there is your ship. My agents in Sydney are Danger, Geddes & Co. All you have to do is to drive her." Woodget soon showed his owner that he knew how to driver her. He was , indeed, one of those rare men who are absolutely devoid of fear, who are as quiet and calm and collected in moments of crisis and supreme danger as other men are in their beds.

— Log of the Cutty Sark (p. 211)
Lubbock also deals with Cutty Sark's darker periods, where one crew member murdered another with a capstan, and another where a captain with peculiar mental insecurities threw himself overboard and was never recovered. Along the periphery Lubbock also mentions the carnage and chaos of the shipping industry at the time, and laments the loss of the beautiful tea shipping fleet to storms, shipwrecks, or the slow dismemberment at the hand of the faster steamships who eventually unseated them in global trade.
Who should read this book? Anyone with a strong interest in Cutty Sark, tea or wool trades, 19th century commercialism, or the pinnacle of the age of sail. This is just one step removed from delving into source documents (such as actual ship logs – some of which are in the appendix), so casual readers on these topics may find themselves seasick with detail in sections. Anyone with a strong understanding of tall ship sailing terminology or anyone willing to learn will do well.
All told this book is a wonderful resource for anyone who wants to learn about the ship's past.
I highly recommend it.
I maintain a Twitter account that follows the history of the Cutty Sark and the famous tea clipper races in real-time. Please follow @CuttySarkLog by clicking here.
If you liked this post please leave a comment at the bottom of the page and click the +FOLLOW button on the bottom right of your screen. Thanks!
Thanks for reading! Here are some other posts you might like.