Basil Lubbock is possibly the world's most prolific author on 19th century merchant ships, penning dozens of books and articles on the height of commercial sailing in the West, including, among other things, the Famous Tea Clipper Races. Yet, for someone who wrote so much, his legacy has fallen on hard times with recent research and discoveries casting doubt on his accounts and conclusions. This post seeks to build a brief back story of Lubbock's life and briefly examine his current place in maritime scholarship.
Early Life & Sailing Days
Alfred Basil Lubbock was born on September 9th 1876, the same year the merchant ship Marlborough, was built, and some seven years after the famous Cutty Sark began to ply the waters. His parents were minor nobles, but Lubbock spent much of his young life in the care of his uncle until 1896 when he crossed the Atlantic to try his luck in the Klondyke Gold Rush.
Three years later in San Francisco he signed on as an apprentice on a barque named the Ross-Shire. Later he served on the Commonwealth a full-rigged ship where he,  "fell about 50 feet from the mizen, landing on the poop rail and breaking a belaying pin off inside his thigh."[1]
Lubbock's time on board these sailing vessels, while brief, marked him forever and formed the basis of his research and writing for the second half of his life. After a few months of professional sailing, Lubbock joined the army and fought in the Boer War. He served with an artillery unit and saved the life of one of his African cohorts, an action he was commended for.
Records show that after the war Lubbock briefly spent time in New York and Canada before returning to the United Kingdom and getting married. Sometime during this period he began writing his first work, Round the Horn Before the Mast which described his personal experience working on tall ships. It was published in 1902.
He followed this first title in 1905 and 1906 with Nineteenth Century Dramatic Stories of Atlantic Crossings, and Jack Derringer, A Tale of Deep Water, followed by Deep Sea Warriors in 1909.
In 1914 he served as an artillery officer with the territorial commission in India, where he took up painting.[2] He spent a considerable amount of time with the British Raj at their summer government location in Simla. He took time with his wife to tour many of India's exotic tourist destinations and hobnobbed with high-ranking British officials. It was here that he wrote The China Clippers, beginning his period of discussing ships by their class and function.
Wartime Celebrity
According to his own writings Lubbock had received a decent amount of attention for his nautical works by this point in his life. Sailing enthusiasts around the world wrote to him of sightings of the famous clipper Cutty Sark which at the time was still owned by the Portuguese under the name Ferreira.
He writes:
"Owing to the account of her in my China Clippers, I have been bombarded with letters from these enthusiasts: schoolboys wrote that they were making models of her… sailormen wrote, proud of having passed her at sea: her Portuguese admirers wrote from Lisbon: and even soldiers in the thick of the Great War wrote giving me any information they had or asking for the latest news.

"From every part of the world came these letters from Cutty Sark  enthusiasts…During the first year of the war letters from Australia, from South Africa and from the Americas tracked me down in the Punjaub, followed me to the North-West Frontier, and even came by runner to Himalayan camps, 8,000 to 12,000 feet above the sea level."

— From Log of the Cutty Sark
He was eventually called to service in Europe during the first World War and continued receiving fan mail from readers and sail lovers, even while he was on the front lines. Once again Lubbock earned accolades for his service, receiving the Military Cross in recognition of "an act or acts of exemplary gallantry during active operations against the enemy on land…" Per the British system Lubbock could thence forth follow his name with the initials M.C., though I have yet to find evidence that he exercised this privilege. He eventually attained the rank of captain.
His Golden Age
After the war Lubbock became an avid recreational sailor, founding sailing clubs, giving lessons, and even helping develop racing yachts. In time he became friends with Wilfred Dowman, the man who repurchased the Cutty Sark from the Portuguese, and transformed her into a sail training vessel.
Sadly, Lubbock has lost credibility with modern historians for relying too heavily on correspondence and interviews with crews and captains instead of consulting primary source documents or fact-checking. His books often lacked a strong-willed editor, Lubbock tends to repeat himself, confuse the names of ships and captains, and even list incorrect dates. As this is the case, most historians only refer to data from Lubbock's writing as a matter of last resort to fill in otherwise empty gaps in the record.
However, what makes Lubbock's writing fresh and colorful are the very pieces of correspondence and interviews Lubbock exchanged with the eyewitnesses of world-shaping events. In truth, Lubbock's interest in recording the final breaths of the great sailing ships came at the perfect time. A fair amount of what we now know about these vessels is thanks to the cadre of supporters and mariners who told him their stories.
So, it seems, many modern nautical historians approach Lubbock with a strange bifurcated appreciation. Much of his writing lacked rigorous journalistic standards, however, the first-hand accounts he collected offer us a perspective into the era we could never have seen any other way.
Basil Lubbock died in Sussex on September 3rd 1944 just a few days shy of his 68th birthday.
Lubbock's legacy lives on, perhaps not as much in his own writing as in the advocacy he espoused. He is arguably one of the first outspoken proponents of finding and restoring decaying historic sailing vessels around the world. It is in part due to his diligence and interest that ships such as the Cutty Sark are preserved for us today.
Bibliography of Lubbock's Major Works
Round the Horn Before the Mast (1902)
Nineteenth Century Dramatic Stories of Atlantic Crossings  (1905
Jack Derringer, A Tale of Deep Water (1906)
Deep Sea Warriors (1909)
The China Clippers (1914)
The Colonial Clippers (1921)
Cruisers, corsairs & slavers : an account of the suppression of the picaroon, pirate & slaver by the Royal Navy during the 19th century (1922)
The Blackwall Frigates (1922)
Adventures by Sea from Art of Old Time (1925)
The Western Ocean Packets (1925)
The Last of the Windjammers Volume I & Volume II(1927 & 1929)
Sail, The Romance of the Clipper Ships Vol. I, II, & III (1927,1929, & 1936)
The Down Easters. American Deep-water Sailing Ships 1869-1929 (1929)
Bully Hayes, South Sea Pirate. (1931)
The Nitrate Clippers (1932)
The Opium Clippers (1933)
The Coolie Ships and Oil Sailers (1935)
The Arctic Whalers (1937)
What is your favorite book by Lubbock or another maritime history author? Let me know in the comments.
I maintain a Twitter account that follows the history of the Cutty Sark and the famous tea clipper races in real-time. Please follow @CuttySarkLog by clicking here.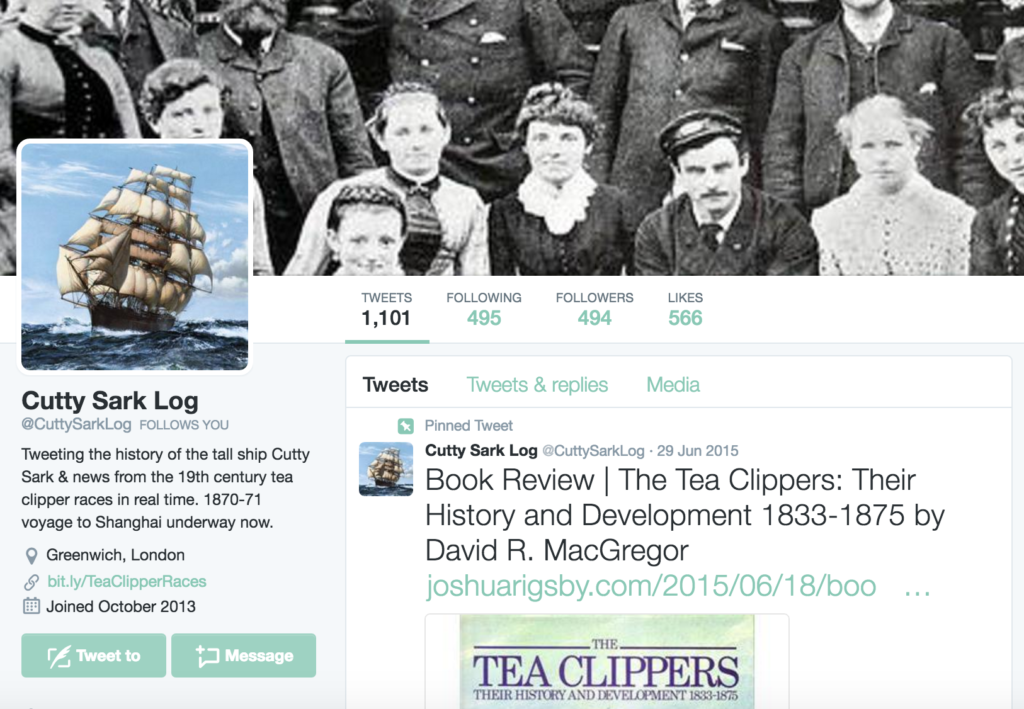 Are you interested in tall ships, tea clippers, or the Cutty Sark? Click the +FOLLOW button on the bottom right of your screen to be notified when I write another article on this topic. Thanks!
[1] http://navalmarinearchive.com/research/lubbock_biography.html#2
[2] http://angloboerwarmuseum.com/Boer71h_lubbock.html
Thanks for reading! Here are some other posts you might like.